15 Ancient House Designs That You Can Build Really Cheap or Free
posted
Categories: Home Stylings
How would your life change if you never had to pay rent or interest on a mortgage again? I bet it would take a significant weight off your shoulders. It sure would for me.
You're not alone, in fact today most people in "civilized" parts of the world don't own their homes but are indebted to banks or rent from a landlord. But it has not always been this way, as Henry David Thoreau so truthfully writes in his book Walden:
In the savage (Native American) state every family owns a shelter as good as the best, and sufficient for its coarser and simpler wants; but I think that I speak within bounds when I say that, though the birds of the air have their nests, and the foxes their holes, and the savages their wigwams, in modern civilized society not more than half the families own a shelter. In the large towns and cities, where civilization especially prevails, the number of those who own a shelter is a very small fraction of the whole. The rest pay an annual tax or this outside garnment of all, become indispensible summer and winter, which would buy a village of Indian wigwams, but now helps to keep them poor as long as they live.
Is this the best humanity can do?
Is it impossible to imagine a future where humans, just as other animals, own their shelter free and clear and don't have to pay a "tax" their whole lives just to stay protected from the elements?
Of course not! This is crazy!
In the list below you'll find examples of homes that "savage" people throughout the world built with their own hands using locally available materials that Nature provided for free. No mortgage or rent required.
What you take away from this list is up to you, but I have no doubt there's a lot to learn from how our ancestors lived in harmony with their surroundings and adapted perfectly to their environments, no matter how harsh.
1. The Tipi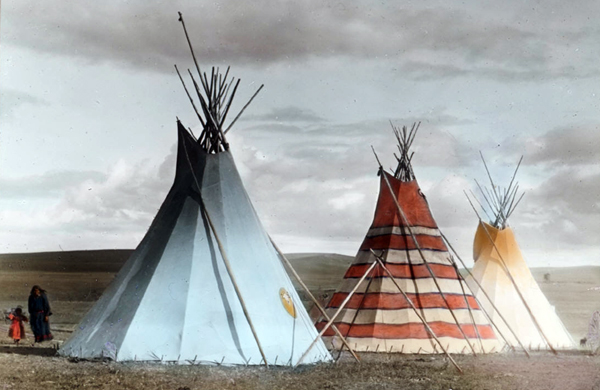 Tipis (also spelled Teepees) are tent-like American Indian houses used by Plains tribes. A tepee is made of a cone-shaped wooden frame with a covering of buffalo hide, and originally they were up to 12 feet high. Like modern tents, tepees are carefully designed to set up and break down quickly. As a tribe moved from place to place, each family would bring their tipi poles and hide tent along with them.
Plains Indians migrated frequently to follow the movements of the buffalo herds, and it's said an entire Plains Indian village could have their tipis packed up and ready to move within an hour.
2. The Lavvu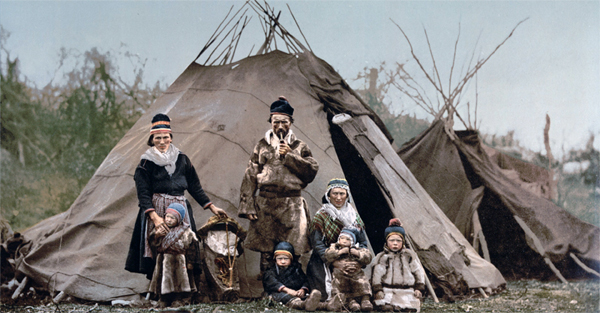 Sami family infront of their lavvu, 1900
The Lavvu has a design similar to a Native American tipi but is less vertical and more stable in high winds. It's a temporary shelter used by the Sami people living on the treeless plains of northern Scandinavia, and it's made of wooden poles which are covered in reindeer hides or, more recently, textile.
Modern designs of the lavvu have replaced the wooden poles with aluminium poles and heavier textiles with lighter fabrics. Today some people choose to heat the lavvu with an oven instead of an open fire and that has the benefit of producing less smoke, but it also produces less light making it quite dark inside.
3. The Wigwam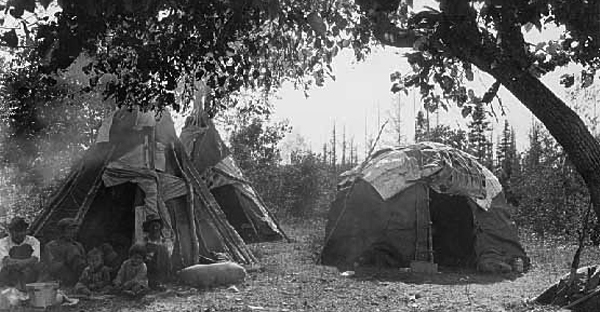 Wigwams, sometimes also known as birchbark houses, are Native American houses used byAlgonquian Indians in the woodland regions.
These shelters are small, usually 8-10 feet tall, and they're formed with a frame of arched poles, most often wooden, which are covered with some sort of roofing material ranging from grass, bark, brush, mats, reeds, hides or textile. The frame can be shaped like a dome, like a cone, or like a rectangle with an arched roof. The curved surfaces make it an ideal shelter for all kinds of conditions, and while wigwams are not portable they're small and easy to build.
A first hand account from 1674 of Gookin, who was superindendent of the Indian subject to the Massachusetts Colony, says…



"The best of their houses are covered very neatly, tight and warm, with barks of trees, slipped from their bodies at those seasons when the sap is up, and made into great flakes, with pressure of weighty timber, when they are green….The meaner sort are covered with mats which they make of a kind of bulrush and are also indifferently tight and warm, but not so good as the former….Some I have seen, sixty or a hundred feet long and thirty feet broad….I have often lodged in their wigwams, and found them as warm as the best English houses."